Shovels supplied

,




no

experience

necessary

.
The Township of Woolwich Environmental Enhancement Committee (TWEEC)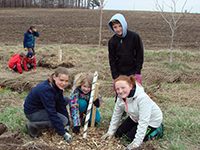 The Township of Woolwich Environmental Enhancement Committee (TWEEC) is a partnership between Woolwich Healthy Communities and the Township of Woolwich to improve the quality of the environment in the Township. Formed in February 2004, our 14-member committee meets monthly to plan projects and to organize groups and volunteers to help implement them. We welcome volunteers and groups interested in contributing to local environmental projects!

Committee Members
2019-2022 term
Susan Bryant (Chairperson)
Matthew Hilbert

Dennis Martin
John Mathers
Adrian Miltenburg
Kaitlin Powers
Inga Rinne
Chris Snyder
Gloria Yeung
Ann Roberts (staff support)
Developing an Environmental
Enhancement Plan

Developing and managing a Reforestation Plan - see Trees for Woolwich project

Mobilizing the community to implement
the plans
Promoting public awareness of and education in environmental enhancement

Initiating environmental programs

Providing comments to Council on environmental issues, as requested by Council

Proposing and implementing work plans based on priorities identified by the Committee
$12,000 is available in the Township budget annually for projects implemented by the Committee
The plans, budgets and implementation measures are first endorsed by the Woolwich Healthy Communities Coordinating Committee and then presented to Council for approval.

The specifics, logistics and volunteer organization for each project are considered and approved by the Committee.
Your thoughts and ideas are important to us!
The Committee is looking for ideas for environmental enhancement projects in Woolwich Township. We have some ideas, but we would very much like to hear from Woolwich residents. Please contact any Committee member with suggestions for project areas.
2019 Tree Planting Dates:
April 27 & 30 and May 1 & 4, 2019
Woolwich Community Clean-Up Day:
Saturday, April 20, 2019 | 8:30am-Noon
For more info about tree planting or Community Clean Up Day please contact:
Ann Roberts
519-669-1647 X7027 or 1-877-969-0094 x7027
Planted more than 2000 trees in Elmira

Hosted a pesticide alternative workshop

Planted 60 trees at Schaner Park in St. Jacobs

Organized annual community clean-up days since 2004

Prepared an environmental enhancement plan

Planted more than 700 trees at part of five roadside tree planting projects

Hosted three native plant sales.

Initiated the Yellow Fish Road program in Woolwich

Partnered with GRCA to plant 80 trees at Snyders Flats near Bloomingdale and 150 trees around the Woolwich Reservoir

Supported the greenhouse project at EDSS

Supported the Region's bale wrap recycling program

Revitalized the native garden at the Elmira Library

Supported school naturalization projects in Breslau and Elmira

Rescued plants at the Walmart development site

Established the Trees for Woolwich Program.

In partnership with the Region of Waterloo, planted a 500 m living snow fence along Arthur St. north of St. Jacobs, as a pilot Living Snow Fence Project.

Initiated a the Woolwich Community Tree Nursery

Initiated "Seedlings in the Classroom" and "Seedlings for Seniors" programs and "Students for Shade" Interpretative walk program at the tree nursery.

Undertook a phragmites pilot project.

Undertook an ash tree removal and replacement project along the Trans Canada Trail near St. Jacobs.
Plenty of volunteer opportunities to work with us.